News and Articles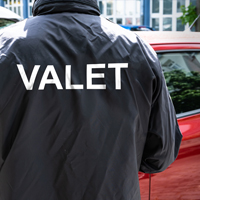 The Impact of Technology on Valet Parking
July 12, 2023
Data-driven technologies have transformed industries across sectors, allowing for improved efficiency, cost savings, and security. The valet parking industry is no exception; emerging tech has provided new ways of doing business. In this article, we illustrate the potential benefits of valet parking technologies and present potential liability concerns that influence the future of the valet industry.
Technology in Parking Operations: Potential Benefits and Emerging Challenges
Technology has a significant impact on valet parking operations, with implications that are transforming the industry in several critical ways:
Efficiency and Productivity: With technology such as automated valet parking systems, businesses can streamline the process and reduce waiting times. For example, valet staff can use mobile devices or tablets to track vehicles and their locations digitally, eliminating manual processes and human error.
Customer Experience: Apps and digital platforms allow customers to request their cars, pay for the service, and even track their car's location in real-time, offering a better customer experience.
Data Collection and Analysis: Digital tools enable valet services to collect and analyze data about customer behavior, busy periods, and other operational metrics. This can help to optimize staff deployment, improve service, and increase profits.
Security: GPS tracking and surveillance technology can help to improve the security of vehicles under the care of a valet service, reassuring customers about the safety of their vehicles.
Automation and Robotics: Looking to the future, automated or robotic valet parking could significantly disrupt the industry. With self-driving car technologies, vehicles could park themselves once dropped off, increasing efficiency and reducing the need for human staff. This, however, could have significant employment implications.
Environment: Reduced idling and more efficient parking practices enabled by technology can contribute to decreasing the carbon footprint of the valet parking industry.
Revenue Management: Dynamic pricing models can be introduced based on real-time demand and supply data, increasing revenue opportunities for the valet parking businesses.
However, these advancements come with their challenges. The introduction of automated systems may reduce the need for human staff, leading to potential job losses. Companies will also need to invest in new technologies and train staff to use them, increasing costs.
Cybersecurity will become increasingly important as more data is digitized, and regulatory frameworks may need to evolve to cover new developments, like self-parking cars.
Despite these challenges, the future of valet parking appears to be moving towards increased use of technology, resulting in more efficient and customer-centric services.
Insurance Implications for the Valet Industry
The introduction of technology in valet parking operations can significantly affect insurance liability in various ways:
Loss Prevention: Technology such as GPS tracking and surveillance cameras can help mitigate the risk of theft or damage to vehicles. If an incident occurs, video footage can be used as evidence, reducing disputes and liability claims. As a result, this could potentially lower insurance premiums.
Reduced Human Error: Automation can decrease the chance of human error, such as misplacing keys or damaging vehicles during parking. Again, this could reduce the number of claims and, therefore, the cost of insurance.
Data Collection: Digital tools enable better record keeping, which can provide accurate data in the event of a claim. This can make the claims process smoother and faster. It also provides evidence that could protect valet companies from fraudulent claims.
Autonomous Valet Parking: With the emergence of autonomous vehicles, there could be a shift in insurance liability. If a self-parking car was to be involved in an accident, the vehicle manufacturer or software provider might be held liable rather than the valet service.
However, these technological advancements also present new risks and challenges:
Cybersecurity Risk: As valet services increasingly rely on digital platforms and data, they become more exposed to cyber threats. If customer data were to be breached, the valet service could be held liable for any losses incurred. As a result, they may need to maintain cybersecurity insurance coverage.
Technology Failure: If a digital system were to fail, causing loss or damage (for example, a car is not properly tracked and is stolen), the valet service could be held responsible. Insurance policies would need to cover these types of risks. Traditional general liability and garagekeepers legal liability policies may not meet emerging liabilities; innovative insurance providers have begun to implement coverages tailored to the unique risks associated with valet automation technologies.
Regulatory Changes: As mentioned earlier, the shift towards autonomous vehicles will likely lead to regulatory changes, which could impact insurance requirements and liability.
It's clear that while technology has the potential to reduce claims and lower insurance costs, it also presents new risks that need to be managed and insured against. This underscores the need for valet parking operations to work closely with their insurance providers to ensure they have the right coverage as they adopt new technologies.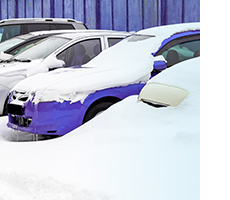 Winter holiday season…nightmares!
December 18, 2021
It's a sad reality that this annual winter holiday season—which so many eagerly and joyfully anticipate—is actually riskier than most other times of the year. Everyone is in a hurry, streets are crowded, darkness arrives early, and weather is severe in much of the country.
Parking operators—whether they manage self-parking lots and garages or provide valet-parking services for the hordes of holiday shoppers—are right in the thick of things. Over the many years our ArmorPark program has placed insurance for this industry, we have seen countless claims during this season. Here are just two examples from the many.
Two valet drivers moving cars for attendees of a holiday event drive two high-value vehicles down an alternate route to their parking destination—in torrential rain. One right after the other, they "drown" the cars in high water. Of course, the valet drivers hadn't known the condition of that route or they wouldn't have used it, but the flood waters destroyed both vehicles' engines and interiors—totaling them.
Holiday revelers feeling "merry and bright" walk into the path of cars being driven by parking valets. Injuries result—and so does litigation. Guess whose side the jury took when this went to trial? (Hint: It wasn't the parking operator's side.)
Your first duty to your hardworking parking employees is not to wish them joy of the season, but rather to warn them that this could be a tragic holiday for them—and your parking patrons—if they do not take extra care during this time. By placing greater emphasis on safe practices, let the greatest gift you give be your parking patrons' and your employees' safety.—Connie Fox
ArmorPark welcomes Sera Chalayan-Cessna!
June 24, 2019
In May 2019, U.S. Risk brought Sera Chalayan-Cessna on board to join the ArmorPark team as an underwriter. Here's a brief story of what led Sera to us!
After graduating from university, Sera began her career as a banker. She soon transitioned to insurance, first working in wholesale brokerage and then moving to an admitted carrier, where she spent the majority of her early insurance career. During those years, she worked in customer service, account management, human resources, marketing, underwriting and sales. In addition, she served as president of the Emerging Insurance Professionals' Orange County chapter and as a member of the Insurance Industry Charitable Foundation's associate board.
Then, during 2016 and 2017, Sera spent 15 months in the Czech Republic earning her MBA. In January 2018 she resumed her insurance career on the retail side as Area Vice President at Gallagher, where her sales focus was on non-profits and parking operators. The way we see it, this was all excellent preparation for her becoming part of U.S. Risk and ArmorPark.—Connie Fox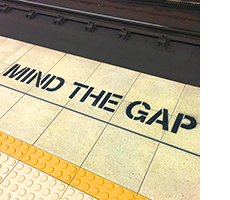 Are you falling into the gap?
August 9, 2016
A popular worldwide clothing retailer once ran ads that encouraged us to "fall into the gap." That tagline got me to thinking recently about gaps in coverage and how they can affect the livelihood and lives of you and your patrons.
Insurance is expensive because—let's face it—parking operators are in a tough industry that has significant risks. It's not just the possible theft of a high-value vehicle (and we've paid our share of big losses on some pretty rare cars). It's the risk of human safety that makes parking and valet operators unpopular with insurance companies. But allowing coverage to lapse—or worse yet, going uninsured—can be a major life-changer for you and your assets, your clients, and parking patrons.
In my 25-plus years of specializing in insurance for the parking industry, I've seen more than one parking entity decide to non-renew their coverage while shopping around for better pricing. Ironically, some of the most serious claims I've seen have occurred during the time the parking client "fell into the gap."
In just one example, waiting patrons were hit by a valet-driven car days after the parking operator chose to non-renew their coverage because of a 20% premium increase. The packet of attorneys went after the parking operator's client (a popular restaurant), the parking patron (the car's owner), and the parking operator's employee (the valet) because the parking operator wasn't insured at the time of the accident. When this parking operator was finally able to find an insurer that would cover them, the premium was four times the cost of the renewal premium they were initially offered—and had rejected.
My advice is to consider insurance to be as important as placing your infant into a car seat rather than holding her on your lap while driving. That's a no-brainer, right? Well, so is insurance coverage!
DON'T fall into the gap!—Connie Fox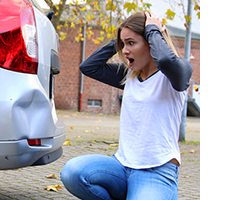 The danger lurking around every corner
February 23, 2016
I've interviewed many parking-company owners over the years. When I ask them what single type of claim concerns them most, most of them reply that it's damage to or theft of vehicles in their care, on their premises.
They're especially concerned about high-value cars. Even less-expensive cars cost much more to repair than in the past. And disgruntled claimants may insist that their "babies" suffer diminished value after the repairs have been done.
But here's what rarely occurs to most of these parking operators: Their biggest risk is right down the street or around the corner. Many of the serious claims parking operators experience involve multi-car collisions on public roads—away from the parking operator's premises. Yet this danger never seems to be at the top of their list.
THE LESSON? When training your employees or developing risk-control measures, always give extra thought to the danger lurking around every corner. Yes, you should worry about damage to your patrons' cars and take care when handling them. And, yes, you should emphasize repeatedly that patrons are at risk any time vehicles are being moved.
But for every time you worry about your drivers moving cars on premises, worry twice when your drivers take those cars off premises and onto public roads.—Connie Fox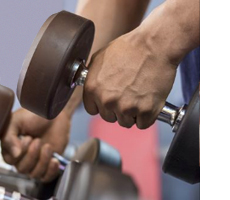 Did you hear the one about the five bodybuilders?
January 21, 2016
Five musclebound bodybuilders pile out of a supersize SUV. Actually, the story starts sooner than that. And this is a cautionary tale, because size doesn't matter when it comes to lawsuits.
A valet driver pulled a customer's small sedan out of a restaurant parking lot, intending to take the car down the street to a remote parking lot. He never made it there.
As he entered the public road, he hit a large SUV that had the right-of-way. Out piled five angry men who had just left the nearby gym after a weight-lifting session.
After harassing the valet driver for a bit, the bodybuilders took insurance information from him and then jumped back into the SUV and drove away. The frightened valet later stated that they were clearly not injured in any way. Their SUV had no visible damage either, even though the much smaller car the valet was driving did sustain some minor damage. He probably thanked his lucky stars that this one turned out okay.
But it didn't. Four months later all five of the bodybuilders filed lawsuits against the parking company for bodily injury "sustained during the collision." By that time, the driver no longer worked for the parking company.
THE LESSON? If any incident—regardless of how minor it appears—involves human bodies (people in the other vehicle, bicyclist, pedestrian, or whatever), that claim has the potential to blow up into a lawsuit. Train your employees to file a detailed report immediately after any accident.
They can use cell phones or portable cameras for taking pictures to document the scene.
They should write down every detail they remember about the incident, even if it seems minor and it's obvious that no one was hurt. It's much easier to review paperwork that was filed the day of the incident than to try to reconstruct what happened months or even years later—when that employee might be long gone.
And never forget that all potential bodily injury incidents should be reported to your insurance agent and the insurance carrier, even if it's just an incident report and you feel nothing will come of it.—Connie Fox